Looking for a clean book interior design for free? We have made this well-formatted book template in Ms Word for you. This is our fully editable & clean book interior template with everything perfectly designed.
This editable book template has standard 6 x 9 paper size. We have included every necessary element in this Microsoft Word book design template. Page numbers, table of contents, headings, styles, bleeds — each & everything is properly formatted.
---
You would definitely not find such a clean book interior design even on some paid websites providing book templates for Ms Word. If you're a self publisher then must try this modern looking Microsoft Word book template, you would find it a real worth for your next publication.
The best part is that we're providing it for free. Commonly available and best looking fonts are used in this free Ms Word book interior design. This 6 x 9 book interior template is fully compatible with CreateSpace, Ingramspark and many other similar services. You can also convert it into digital formats like Kindle & ePub, etc.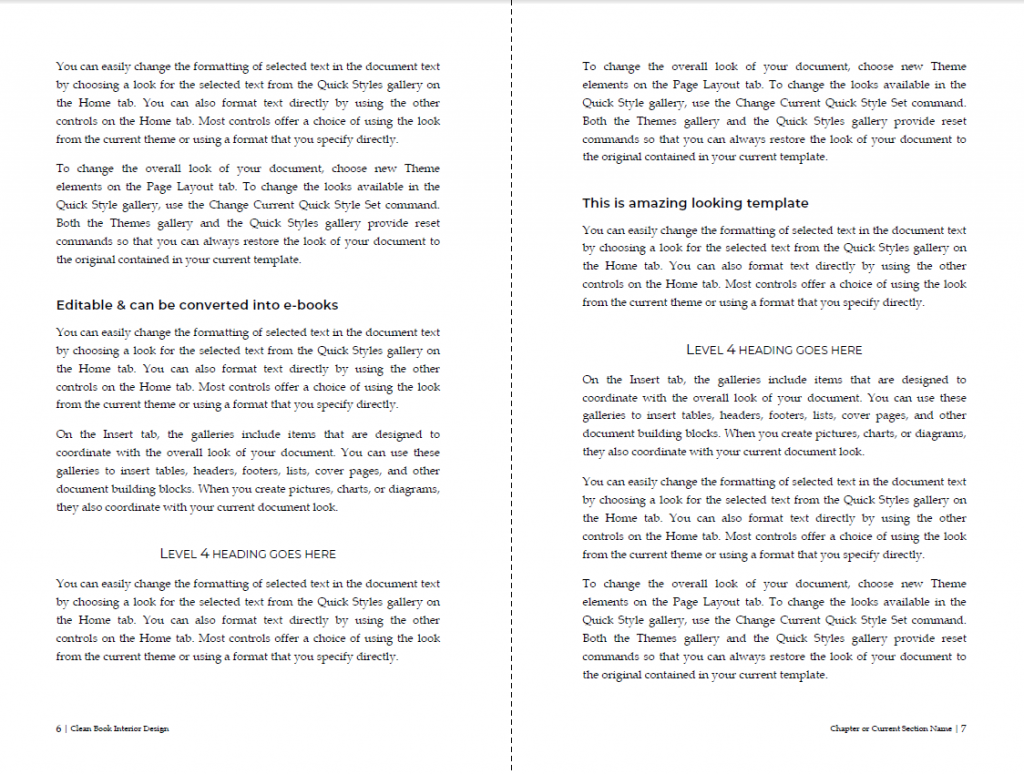 ---
Need any help using this free 6 x 9 book template? Contact us through the comments box or by sending us an email, we will help you to prepare your next book.
---
Important note
We have used the font "Montserrat" in this clean book interior design. This font is available for free by Google. And we have also included this font in our packaged zip, so please must install this font in your computer before using this book template for Word.
Download more editable & professional book templates in Word here
---
Template features
Clean book template in Word – Free
File format: Microsoft Word, Adobe PDF
Paper: 6 x 9 with bleeds
Fonts used: Book Antiqua, Montserrat (included in packaged zip)
Proper margins, sections, headers/footers, gutter etc.
Modern styling and automatic TOC
Fully adjustable and customizable
Its FREE 🙂
---
Download clean book interior design
If you like it then please share your thoughts in the comments box.